About Kate&Kate

ABOUT KATE&KATE
Here, you can find the most beautiful designer jewelry from all around the world. We visit many places: Paris, New York, Copenhagen, Tel Aviv, São Paulo, Sicily... Kate&Kate became a meeting place for the biggest names in jewelry design, like Oscar de la Renta or Laruicci who dressed Rihanna or Lady Gaga, and niche artists who work in small workshops.  
Let your appearance show who your are. Artistic jewelry gives you a chance to express yourself. Feel like matching a bomber jacket with Anna Karenina earrings? Or a sexy dress with boho tassels and an industrial Bao Bao bag? Great! Dress the way Frida painted and Sylvia Plath wrote. Let it be yours and about you.
We reach women from all over Europe, because we believe that through finding their own style they can also discover courage in other areas of life. You can send us a picture of your dress, and we will make jewelry suggestions. Or just e-mail us, and let us write a new story of your life. Allow us to turn you into a new woman.
Sophisticated designs from Hector Albertazzi have their own, unique sparkle.
WE SHARE THE PASSION
Evelyne La Hola is a great, energetic lady from Tel Aviv. She loves traveling, discovering new cultures, and finding inspirations around every corner.
Marek Wójcicki doesn't believe in compromising his artistic vision. So what that most women can't wear plume if they work in a bank or a legal office? It's clear: his designs don't follow trends, and collections appear regardless of seasons.
Nico is a Sicilian through and through. When asked about his inspirations, he says: "I love women and Dolce&Gabbana."
The Caleidoscopio sisters are architects by trade, and it translates into their design. They know that women need their beautiful accessories to also be comfortable. That's why they chose to use light beads instead of metal.
Monica di Creddo's workshop in São Paulo stands between little boutiques and Italian restaurants. She knows the best Brazilian beaches and underground bars. Overall the coolest lady ever!
This is what gives us energy. We seek emotions, passion, stories, talents – and we find it in people.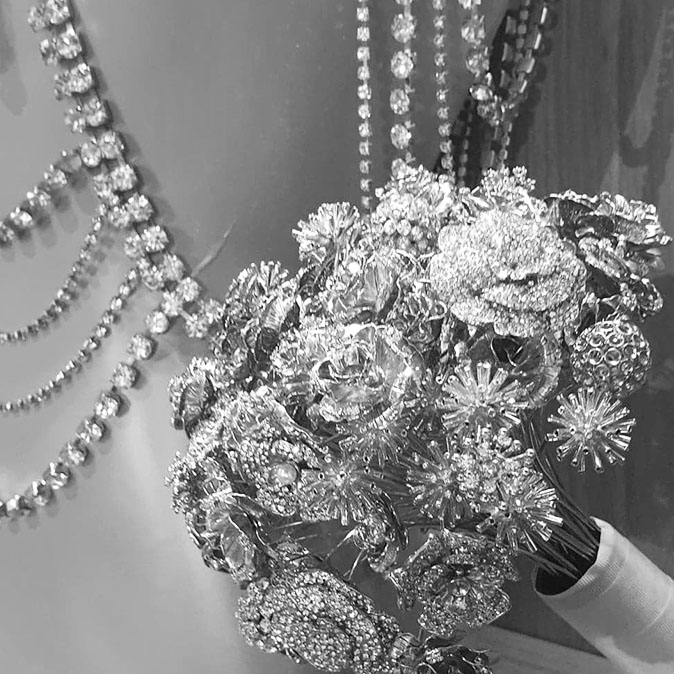 A little gem from Belo Horizonte fashion week, which is where jewelry trends start.
JEWELRY AS A TALISMAN
Americans wear huge necklaces, Italians love long earrings, and Brazilians – many bracelets on one wrist. Everyday. Even at work! Looking feminine doesn't make them any less professional.
We believe that accessories can bring out your courage. Thanks to an eye-catching, brass knuckles shaped ring, romantic earrings that resemble dried flowers, a sporty necklace – you can express your personality wherever you are and whatever you do. And maybe you'll get remembered by an important client, or see that enamored look in your husband eyes, or start a beautiful friendship with a girl who comes up to ask "Where did you get this?"
Our philosophy is: match jewelry to personality. We convince women to show off. To be courageous and never compromise. It's the accessories that can accentuate your character. They open the doors to self-realization, to femininity, to passion. To confidence. And your favorite bracelet becomes a talisman.
A Florentian master, Giampiero Alcozer, loves vintage inspirations and... bugs!
BECOME OUR FRIEND
When you look around, you will understand: it's not just a boutique. It's artistic jewelry from a little Sicilian workshop instead of mass production. It's a necklace, hand-made by a Parisian artist out of recycled materials. It's earrings designed by São Paulo women, full of temperament and celebrating life, who understand that things you wear all day need to be light. It's a place for you!
For you – that is, for a courageous, interesting woman who can appreciate beauty. You buy jewelry, because it brings you joy and shows off your personality. You're not a snob! You have an amazing character and lots of passion, which translates into your personal style. You know how to use your intuition, and how to turn "I should" into "I want to." That's what this place is about! We are all different, but we all love to feel feminine. When you find a necklace that steals your heart, you will feel yourself even on the busiest of days, even in a simple, white t-shirt.
Allow yourself to shine. Both inside and out!
RIBBON, PLUME, GLITTER
Beautiful jewelry deserves a beautiful package. Every piece in absolutely unique and we treat it like a masterpiece. We wrap it in golden tissue paper, put it into a hessian sack, and wrap with a ribbon. Then it goes into a Kate&Kate glittery bag, along with colorful plumes and a few drops of perfume inspired by New York, Hanoi or Tel Aviv.
When you order on-line, the jewelry is secured with an eco, cardboard box, so that transportation can't harm it. If you ask for a gift wrap, we will add a special bag. We thought of everything for you, so that you can just enjoy the receiver's wide smile!
We care for your aesthetic pleasure as much as for the planet. The bags, the tissue paper and the satin wraps are made from natural, eco materials. The hessian sacks come in beige, champagne, or old brass – whatever you prefer! Even the foil we use to pack the parcels in fully biodegradable. We want to reduce our carbon footprint, while still bringing you joy.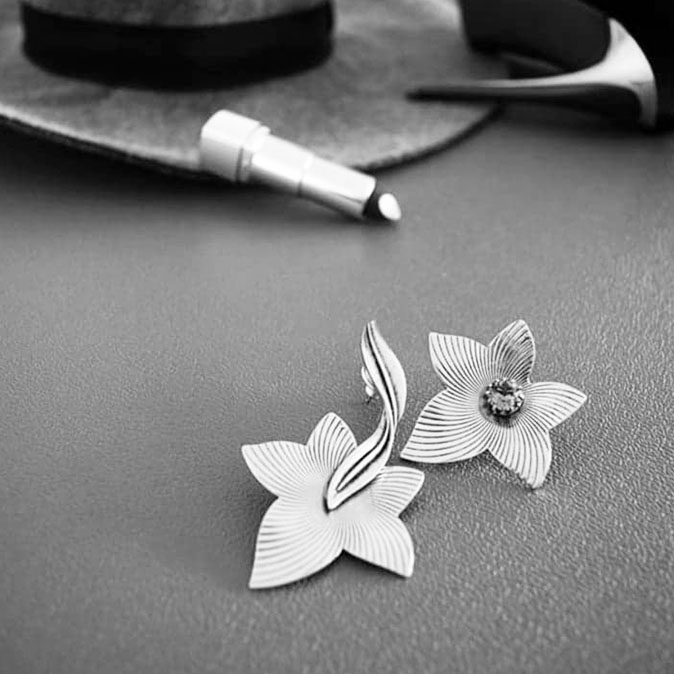 Nobody understands femininity like Monica di Creddo. Flowers are romantic, but also – powerful!